4nids.com – In modern farmhouse-style decorating, warmth is mixed with a crisp, clean aesthetic. To create this look, opt for natural materials and bright neutrals like white, cream, sage, or gray.
Makes the Room Feel Comfortable without Feeling Messy
The key is to make your space feel comfortable and welcoming without feeling cluttered. This approach works well with a variety of decor styles. Exposed brick is a popular wall element that can be used in many different styles of decor. It can create a rustic feel or a more industrial look, depending on the accessories that you use in your design scheme.
Modern farmhouse-style decorating often incorporates exposed brick to give a space a more rugged, rustic feel. It's an effective way to add texture to a room without overwhelming it. If you don't have the time or the budget to renovate your whole house to add an exposed brick accent wall, try using faux brick for a design solution. Wallpaper, brick veneers, and decals are all easy-to-peel solutions that mimic the natural beauty of real brick.
Adding a light-colored mortar that contrasts with the brick will also help your brick wall look more contemporary. If you prefer a darker hue, black is a classic option that designers love. Other trending colors include slate blue and dark gray. When you're decorating a modern farmhouse, it's best to mix vintage elements with more contemporary pieces. Antiques can help you achieve that look without completely changing your home's style or aesthetic.
Adds Rustic Appeal to Modern Farmhouse Style Decor
Designer Susan Holsten says, "It's easy to get caught up in the bargain trap when it comes to buying antiques." But she warns, "Be picky about what you buy and make sure you have a function for your item." Repurposed antiques can be a great way to add a sense of history to your design. For example, heirloom brooches can be framed and hung in intimate spaces that hold memories for the owner.
Old books are also a great way to add nostalgia to your design. Whether they're stacked on a nightstand or arranged on a bookshelf, they create a feeling of library charm in any space. Whether it's a reclaimed wood coffee table or a simple live-edge shelf, rustic accents add an instant country appeal to modern farmhouse-style decorating. They're also an easy way to incorporate a natural element into your space without overdoing it.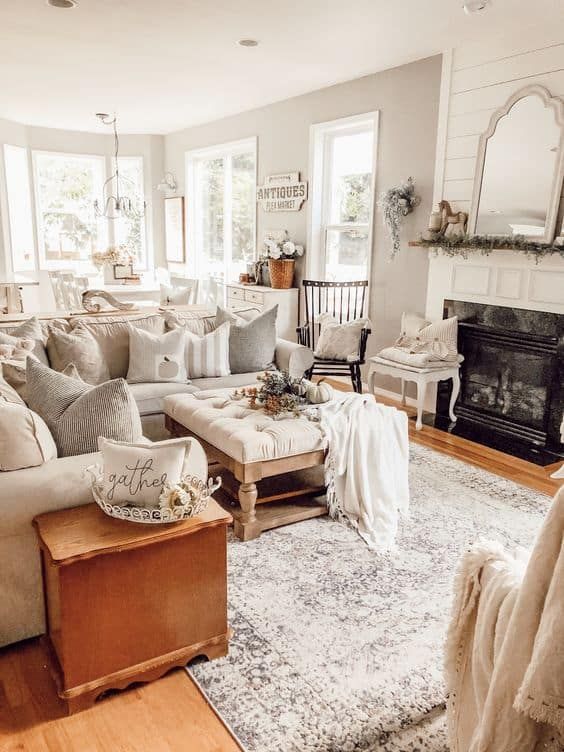 Another great way to add rustic elements to your home is by incorporating painted shiplap walls. This is an ongoing trend in farmhouse decor, and it's a quick and easy way to give your kitchen, living room, or bedroom a cozy, country-inspired feel. A reclaimed wood coffee table and a wall-mounted display cabinet are other great ways to introduce this design trend into your living space. You can paint the wooden cabinets in a tone to match the decor in your room, and then display a variety of decorative pieces and collectibles. This will create a look that is both traditional and contemporary, making your wall decor look like it's been custom-made for you!
Wooden Flooring is Popular for Adding Warmth and a Cozy Feeling
Natural elements are an essential part of modern farmhouse-style decorating. They add warmth and a sense of comfort without overpowering the space. One way to incorporate natural elements into your design is with flooring. Wood floors are popular for this look and can easily be paired with other organic materials.
Another way to add a rustic feel is with exposed brick. Pair it with open shelving filled with curvy antiques and vintage books for a unique farmhouse flair. Then, go for a natural, matte finish to complement the reclaimed and textured pieces.
You can also mix metals in your modern farmhouse-style decor. However, it's important to keep your designs balanced so they don't look too random. For example, you can mix black with copper, or silver with gold, and it will still look good! Try to limit your mixing to two or three different finishes in every room.