4nids.com – When designing a kitchen, it is important to plan and implement the best layout for maximum efficiency. This is especially true for a small nautical kitchen since this type of cooking area can be more cramped than a standard kitchen.
Choosing the Right Nautical Small Kitchen Design and Decor
This means that the layout will require more restraint in what can be stored and more effort in keeping it neat and tidy compared to a standard kitchen. That is why it's important to choose the right small nautical kitchen design and decor. Decorative beading can add a rustic, country-chic aesthetic to your walls. It is available in various widths and thicknesses, which makes it versatile and easy to install.
The traditional tongue-and-groove beadboard paneling is a popular choice for wainscoting and cabinets in homes with an English or American country style. It can be purchased in standard widths of 1.5-inch and 3-inch and is available in a range of wood species. It is also a great choice for backsplashes, especially in smaller spaces. It is relatively inexpensive, easy to install, and it can be painted in any color.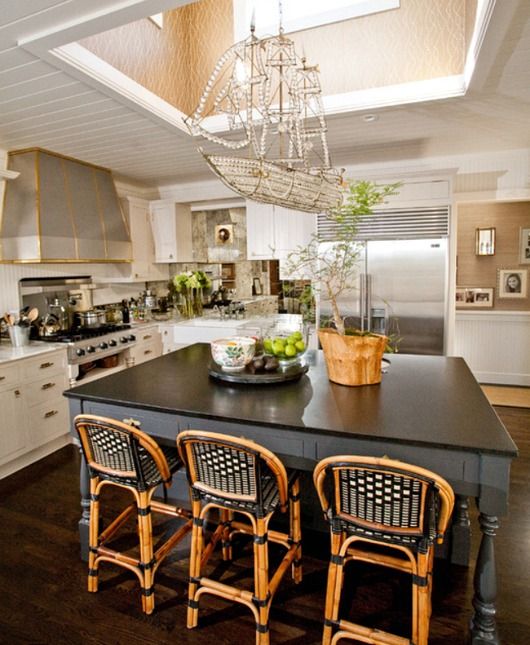 You may want to paint it a color that compliments or contrasts with the rest of your cabinetry. For example, a dark beige, slate blue, or mint green would be great. Beadboard is fairly easy to clean, but it can become dirty quickly. Food and grease can build up in the grooves, so you should wipe it down occasionally with a soft cloth.
The Key to Making the Kitchen the Favorite Room in the Home
Having a well-thought-out and organized layout is key to making your kitchen your favorite room in the house. There is a silver lining to having less clutter on the floor and in cabinets and a more pleasant kitchen environment overall. The best way to accomplish this is to plan ahead with a solid floor plan and budget. Using an online design service to plan your kitchen remodel is the first step to a more pleasant and efficient living space. The most difficult task will be deciding which elements to keep and which to replace. This is a big decision as you want to make sure you are using the right material for the right job and at the right time. Having a clear and concise plan for your kitchen is a must to avoid costly blunders in the future.
Weathered Woods
The calming, casual look of weathered wood is a great choice for coastal decor. The sun-bleached tones of the natural wood pair nicely with soft greens and blues, creating seaside harmony. To add the appearance of weathered wood to your home, you can either choose to purchase all-new pieces or use a simple technique that transforms old wood into the weathered effect. This technique involves layering wood stains, and is a relatively inexpensive way to add this distinctive look to your home without having to spend a lot of money or time searching for vintage furniture.
You can also use the weathered look to accent your kitchen cabinetry, doors and other wooden elements. This will give your space an authentic rustic country aesthetic, and is a great way to add character to small spaces without having to pay for an entire piece of weathered wood. Northern Log's Weathered Wood is a great option for adding this effect to your home.
An Attractive Addition and Helps Unify a Space
When it comes to decorating a small nautical kitchen, accents are key. For example, a large chandelier or ceiling light will be an eye-catching addition and help to bring the space together. Another idea is a sea-green painted floor pattern. These can be a striped, polka-dot, or plaid design and will add a touch of spunk to the space.
For a more practical look, consider hanging a few pendant lights over a small island or table. This will provide accent lighting as well as a little light for cooking. A small nautical kitchen should also have plenty of storage. Cabinets and shelves should be organized to maximize the amount of space in the room, making it easy to find what you need when you need it.