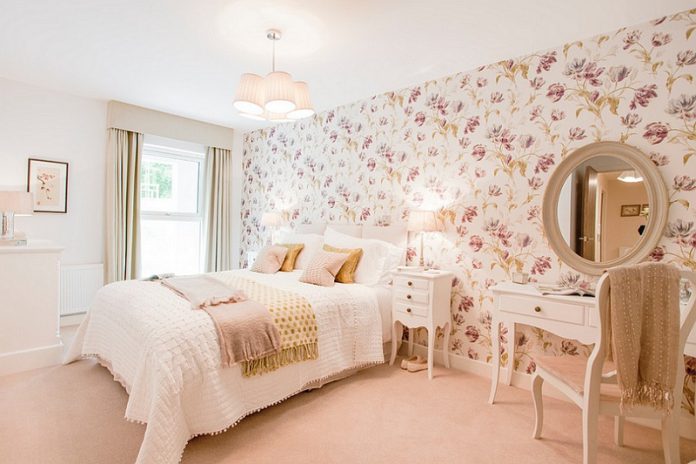 4nids.com – Shabby chic is an aesthetic style of bedroom design in which new items and furniture are either distressed for the look of age or where previously used items are restored to achieve an antique finish. This style has grown in popularity over the past few years and many people now use shabby chic bedroom designs. One of the things that set this style off is the soft warm colors that are so common. Furniture is usually either worn and faded or covered with fabric that is distressed to give the room that old vintage look. Fabrics in shabby chic patterns are also very popular.
Shabby Chic Bedroom Flower Decoration
One of the most popular items to use in a shabby chic bedroom is the floral decor. The walls are painted a pale white and the linens are all either white or off white and have floral accents in abundance. White and floral wall hangings make the space bright and give it a touch of airy elegance. A white and black checkerboard table with floral accents is another great place to display this look. Other accent pieces can include vintage doilies, a vintage coat stand, vintage lampshades, and lots of white paint.
Bedroom furniture such as a chest of drawers, end tables, nightstands, and even a headboard can all be made from distressed wood. Often these pieces are left unpainted as they have a worn-in look but there are some great ways to bring them back to life by having a DIY painted job done. Painting one of these pieces will not only bring its life back into the room but will add a vintage charm too. In addition, the painted finish on the wood will protect it from stains that may be caused by makeup, hair color, or just general usage.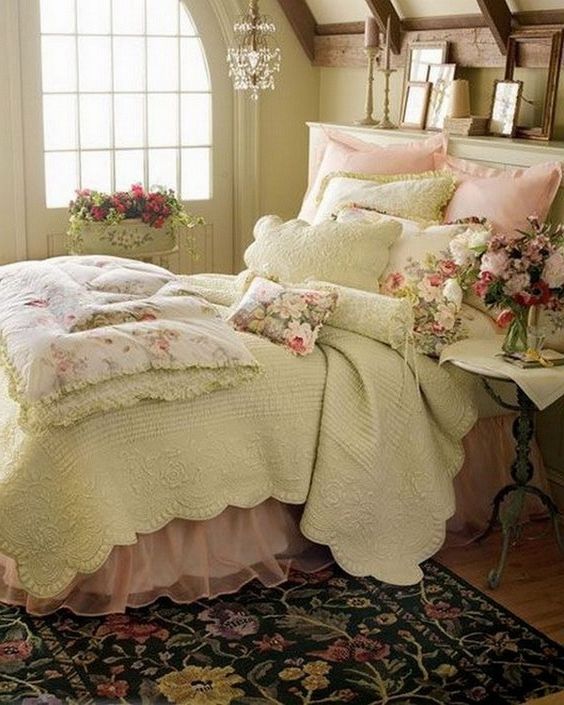 For shabby chic bedroom furniture, you need to think about the antique style. This lends itself well to an eclectic palette which makes it easy to mix and match items. For example, you could use an old baby carriage for your guest bed or dresser and then pair it with shabby chic throw pillows in ivory or cream. These pillows are perfect to dress up the bed in and bring in a vintage feel.
Creating a Shabby Chic Decor Theme Look
The shabby chic bedroom is best complimented by floral patterns. A flower dotted print would be the perfect choice as it brings in soft pastel colors without being overly feminine. Choose soft floral prints such as mums and daisies in soft pastel shades. Lace or fringes work well for an eclectic look, as they combine with the other elements of the shabby chic decor theme. One great way to create this look is by having lace-covered candles in the room or on your bed.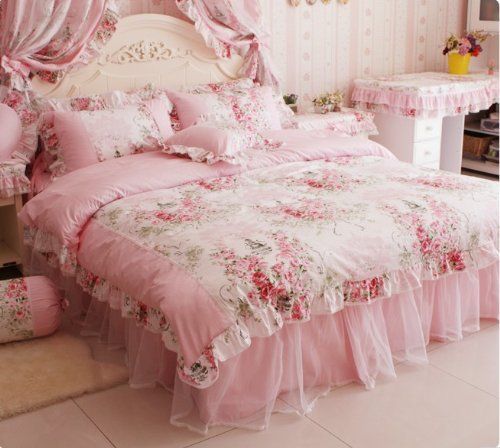 Accents are key when creating the shabby chic style. Use a variety of small figurines made of porcelain, crystal, glass, or wood in the shabby chic style and you will have the perfect shabby chic bedroom with just the right touch of elegance. You can accent the furniture with shabby chic accent pillows and choose shabby chic bedroom furniture with soft pastel colors. If you have a Victorian-style bedroom, find Victorian, shabby chic furniture with a variety of fabrics and brocade, velvet, or velour covers.
Mixing and Matching Colors or Floral Patterns
Remember when decorating your shabby chic bedroom to choose pieces that don't put too much focus on form. Mix and match fabrics instead of choosing only one solid color or on a particular shape. Look for throw pillows in pastel colors or those with floral patterns. Soft fabrics will make the room look larger and airy while darker hues will help you get that cozy feel.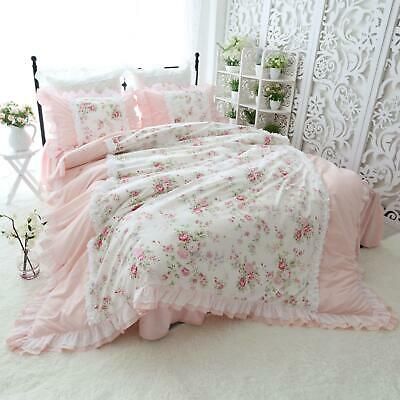 Adding a few extra touches like a floral Roman shade curtain or shabby chic silk throw pillow will complete the look of this room. Place vintage knickknacks on the walls such as old bottle stoppers or a few buttons from an old pair of jeans. Don't be afraid to mix and match textures and colors. You can even use several styles of mirrors such as an antique French side table and a wall sconce. Don't forget to layer your curtains in your shabby chic bedroom, usually the simpler the better. A simple fabric draped over a mirror makes the room look larger than it is.