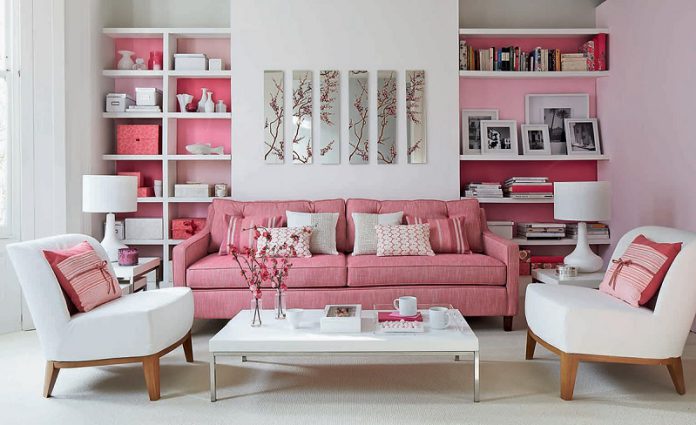 4nids.com – To create a glamorous, feminine look for your pink living room, add accents of pink to your couch, club chairs, and lampshades. The glow of a bright pink living room will make you want to invite guests over for a party. Read on for more ideas….or go full-on shabby chic! Just remember that the pinks should be limited to three tonal shades. In addition to a neutral base colour such as white, try to avoid adding any other bright colours, such as lime green.
Pink Living Room Has Many Functions
A pink living room can serve many functions, including a formal sitting area, a family room, and a casual living space. Before you start shopping for accent furniture and decorating, think about what you'd like the space to serve. If the space is small, make sure to consider ample storage space for all your books, movies, and other media. Built-ins are the best solution for a small living room but may be more expensive than you'd like.
You can break up the pink and white colour scheme with bold accents such as an elegant, blush-pink ottoman or textured pink wall. Black and white patterned wallpaper can soften the effect of a pink living room. You can also add quirky accents to give your room a unique look, such as a George Nelson mid-century modern clock. These small accents add character and balance your colour scheme. You can also use accessories such as flamingo wall art.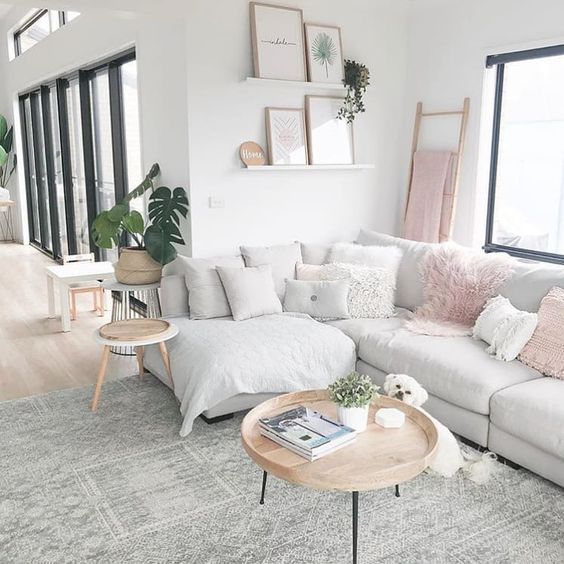 For a funky, girly living room, you can use pink and blue. Blue and pink can look great together, and they are complimentary to each other. Use varying shades of pink and blue, in the right proportions, and in the right places. Incorporate both colors together, and you'll have a lovely, relaxing living room. You can even incorporate plants or artwork in pink and blue to make the space more interesting.
Fun Colors That Match Almost Any Decorating Scheme
Pink is a fun color that works with just about any decor scheme. Light pinks are soothing and calming while darker, more vibrant shades can stimulate. And since it goes well with many other colours, it's a great option if you want to incorporate pink into your room without clashing with it. The possibilities are endless! Take a look at some of the stunning rooms created by interior designers and color specialists. You may just be surprised at what you discover!
If you're a fan of blush pink, you can even add a pop of pink to an old sofa. Try layering a pink throw in several different shades. Pair this throw with natural wood furniture and metallic accessories for a balanced pink look. A rose gold arc floor lamp and a pastel pink wall art will add some glam to your room. A pink living room is sure to be a hit with everyone!
Another charming pink living room has an elegant look. A blush pink wall is accented with white and blue accents. A mirrored wall over the fireplace complements the white sofa, and a large, round table is a great focal point. Blue hand-painted wallpaper and a glossy blue painted ceiling complete the design. The pillows on the sofa are blue ikat, which gives the room a contemporary feel. And the gold puzzle-piece coffee table completes this beautiful pink living room.
Bright and Cozy Pink Living Room
This light-colored salmon-pink living room has an arching window and sheer curtains. A light-colored blue wing sofa sits atop a wood coffee table, while a cream-colored sofa and large indoor plant stand in front of the window. The room features a vintage, industrial-styled chandelier and a pink throw blanket on the floor. Another light-colored living room features a white fireplace and pink accents in the form of small sunburst mirrors, a rose gold chandelier, and potted plants.
Whether you choose light-colored or dark-colored pink, there is a pink shade to suit any decor scheme. Light pink walls will give a room a bright, airy feel without feeling too cold or overly feminine. An accent wall in this color palette will add contrast and brightness to a room that otherwise may appear sterile. But for the most stunning results, use an accent wall in light pink to make it stand out.