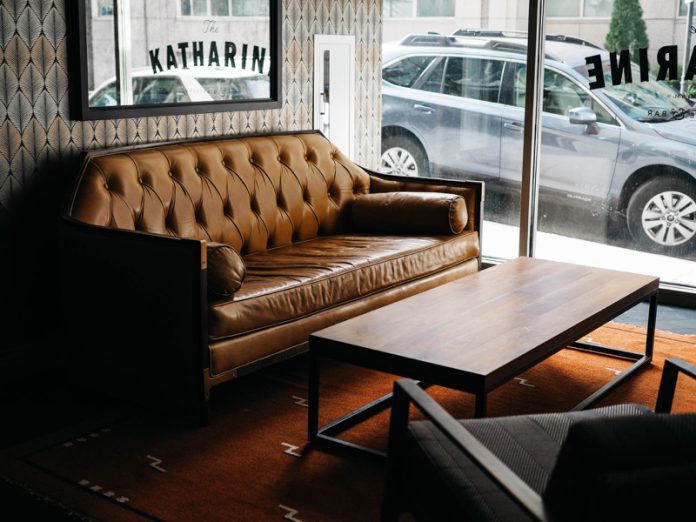 When buying new furniture, you may have last-minute reservations about which material is best for you and your home. With so many upholstery fabric options on the market, deciding which material would fulfill your goals for durability, attractiveness, and cleaning convenience can be challenging. However, there are numerous reasons why a fantastic leather sofa is the best choice for you.
What is Leather?
Genuine leather is a natural substance that is warm and durable, with distinct features that distinguish each hide. Scratches, growth marks, sections of different fiber density, and hair pore structure are all signs of leather's natural origin. These properties have no negative impact on the leather's wearability.
Leather is made by curing animal skins. A process generally referred to as tanning. Hides are the skins of cattle that make up most of the leather used in the production of upholstered furniture.
Many stores divide leather into grades. Customers may be confused due to this, as they are led to believe that the more expensive or higher-grade leathers are of higher quality. However, this isn't always the case, as different varieties of leather can offer distinct advantages.
Tanneries produce only one type of tanned upholstery leather. The cost of the numerous finishing techniques used after tanning is what determines the price of the leather.
As a result, when selecting a high-quality leather sofa, a trade-off between look and ease of care is unavoidable. Leather is an excellent material for both modern and vintage sofas, mainly classic designs.
Types of Leather Used in Furniture
For sofas and chairs, there are a few different varieties of leather to choose from.
Pigmented Leather: The most durable leather is pigmented leather, which is utilized in the bulk of furniture upholstery. A polymer surface coating with colors provides durability. The layer might be embossed, printed, or left plain using modern technologies. Soiling, scuffing, and fading are all reduced thanks to the surface coating.
Aniline Leather: Aniline leather has the most natural appearance. The animal hide's inherent surface qualities are exposed. Pure aniline leather is dyed exclusively, with no polymer or pigment covering applied to the surface. This is to improve the appearance and provide some protection against spills and soiling. A light non-pigment surface coating can be used. You should expect specific natural markings and shade variation with aniline leather. This type of leather is more susceptible to the effects of sunshine and absorbs liquids more readily. Aniline leather sofas require extra care to keep them looking their best.
Semi-Aniline Leather: Semi-aniline leather is more durable than aniline leather and still looks natural. Applying a light surface coating, including a modest amount of pigment, provides more excellent durability. Semi-aniline leather couches benefit from a more consistent color and an added layer of protection due to this treatment.
Benefits of Leather Sofa
Leather has numerous advantages that make it a popular material for furniture, clothes, and footwear. The natural material has a nice feel to it, and it will last for a long time. Here are some of the qualities that make leather an excellent choice for your home:
Longevity: Leather sofa is frequently purchased to last a lifetime. Because leather is a natural substance, it develops a natural patina with age, making it even more gorgeous. And, because leather furniture is something you can enjoy for a long time, it's a wise investment. Leather will endure considerably more than cloth and can be a superior investment.
Easy Care: Leather is a low-maintenance material. To keep leather clean, use a conditioner every 6-12 months and mop up spills with a clean towel as soon as they happen. You should avoid soaps, detergents, solvents, and other common cleaning materials.
Durability: Unless your dog treats your new leather couch like a chew toy, your sofa is just as safe as any other piece of furniture in the house. Choose a protected leather for your furniture, which has an extra finish applied to it, for further peace of mind. This helps maintain the leather, allowing pets and children to sit on the couch without the typical concerns.
Hypoallergenic: Leather sofas are frequently preferable to fabric sofas for allergy sufferers. This is because leather does not easily harbor dust mites, pet dander, and other allergens.
Leather Sofa Cleaning Tips
The majority of leather furniture today is covered, making it relatively easy to clean. If you're not sure if the leather is done, softly scratch it in an inconspicuous location with your fingernail. But you must provide your sofa with the care and attention it requires to keep its timeless appearance. Leather is sometimes perceived to be a high-maintenance material. Still, with the appropriate approach, you can keep your sofa in excellent shape without having to spend a lot of money on expensive cleaning or rejuvenation.
Here are some tips when cleaning your leather sofa:
Brush off any dirt or dust that has settled on the surface of your upholstery with a soft cloth. Use a vacuum with a soft brush attachment to get into the nooks and crannies of your sofa.
Wipe the upholstery of your sofa with a moist cloth next. If possible, use distilled water instead of tap water, as chlorine in tap water can degrade the polish of leather over time. Before doing this, see how the material reacts to water on a hidden portion of the settee. Take extreme caution not to saturate your sofa, as leather does not tolerate significant amounts of liquid.
Use a specialized cleaning agent to treat and sanitize your sofa's upholstery at least once every two to four weeks. Avoid buying shop all-purpose wipes and sprays since they may include chemicals that will harm your sofa. Instead, use a leather-safe gentle cleaning, such as the gentle cleaner for leather.
Allow your sofa to air dry and avoid sitting on it until it is completely dry. The material will stay curved around the contours of your sofa without creases if you do it this way. You can hasten this process by opening a few doors and windows to let fresh air circulate throughout your home.