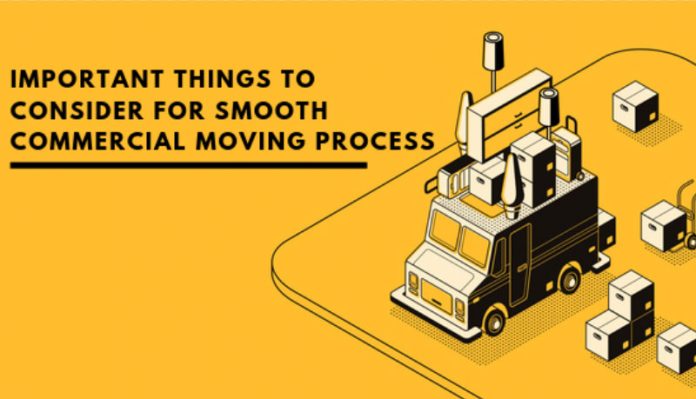 Proper planning and an itemized list of things to do is the key to smooth and effortless commercial moving. Undoubtedly, commercial moving needs services of professional office movers or commercial movers. Yet, your own planning and a printed or handwritten list of things to do hold the greatest importance.
Let us now understand some of the key factors involved in the process of smooth commercial moving:
Location
Have a clear understanding of where you want to move your business to. For example, if you plan to move to a different state, are you familiar with the regulations and laws that apply to the particular state. You may want to know about the local grocery stores, post offices, emergency care, hospitals and other important facilities to enable quick access when needed. Similarly, you should also explore the quickest and most efficient route to reach your new location so that you save on moving costs as well as transportation.
Planning
Is the new location in a ready-to-move-in state? Are all the electrical, plumbing, air conditioning and other essential services in good repair? Has someone checked all these fittings and gadgets to ensure that all of them can just be switched on when you move in? If any renovation/ repairs are needed, ensure that they are done before you move in.
Measurements
This is very important. Take measurements of all passages, doorways, access points etc. and determine if all your belongings can comfortably move out of your present location and also move into the new location without hassles. Understand how close to the property can the moving agency's truck get before unloading your belongings. This will help you understand the extent of manual labour involved in the process. Speak to the property management people at the new location. Understand if there are restrictions on the use of lifts if your new location is on a higher floor. If heavy packages have to move through the stairs, is the moving company organized to handle that part of the job safely?
Put the essential logistics in place ahead of the planned moving schedule
Notify the post office and other agencies about the change in your mailing address so that you don't miss any important communication.
Packing
Insist on proper packing of all your belongings at least 24 hours before the mover's truck arrives. This way, you will have the opportunity to oversee the entire packing activity properly. Never allow the moving agency to hurry all the packing into a few hours since you may end up losing valuable belongings permanently.  Make sure that every box is properly labelled and similar items are grouped correctly.
Downsize to the hilt
Relocation and moving is the best time to eliminate a host of unnecessary items, broken furniture, outdated fittings etc. It is only natural that you expect your new office to present the best looks and therefore all the used gadgets and furniture may not be the best way to achieve that objective. By eliminating old and unwanted material you can make the moving operation lighter and save a significant amount of truck space. Commercial movers will charge by weight and distance and therefore if you have eliminated about half a ton of material, that will save you money to invest in more useful stuff at the new location.
Don't be frugal on packing material
Many people try to save a small amount of money on packing material. However, this can be counterproductive when the move is completed and you start out at the new location. It is desirable to spend those additional dollars on packing material since you can potentially avoid damaged and broken belongings at your new location.
Protection and Safety
Check with your professional office movers on enhanced measures of protection they are offering to your belongings from the point of lifting to placing them at your new location. Do they ensure your belongings or should you be buying insurance independently? Are all valuable items like glass, crockery, and other expensive items packed carefully to avoid potential damage in transit? Make sure to ask these questions and also have complete details in a written contract.
Hiring commercial movers
The final step in ensuring a smooth commercial moving process is hiring competent commercial movers.  In most Australian cities and towns, this task is relatively easy since you can always find multiple service providers with a long history of offering satisfactory services. With the professionals handling the task, you can buy plenty of peace of mind since they will take care of packing and moving your belongings as well as the legal aspects involved.
Do remember that the lowest quote may not be the best quote for you. Check out the service provider's reputation and speak to some of their past clients whenever possible. Also, remember that commercial movers can be pretty busy during certain seasons. Therefore, it would be desirable to plan your move ahead and avoid last-minute problems.
Conclusion
You can ensure a smooth moving process when you follow the above tips.