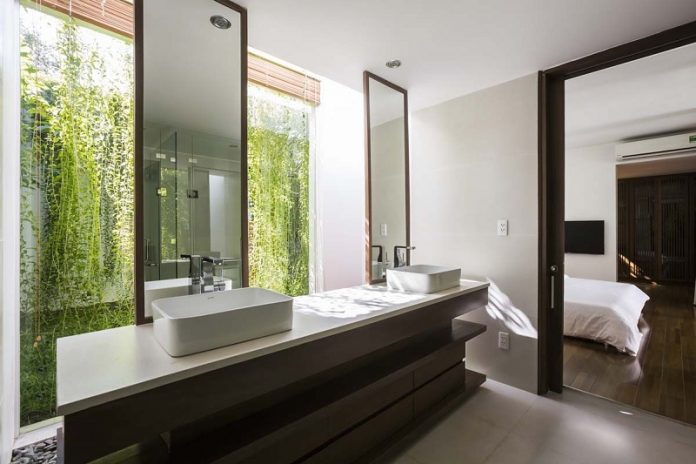 For most of the people, bathroom is considered as a place for flush, brush and shower quickly early in the morning. Nobody has enough spare time to think about the ambience of the bathroom. Artificial air freshening tablets are not enough to keep your bathroom clean. If you pay a little bit attention, it can be turned into your favourite relaxing space. Yes, turning your bathroom into a soothing space is now possible with some green ideas. Once can utilise plants and other natural products to upgrade the bathroom in a unique manner. Below are some ideas that you will surely love to implement.

Innovative Ideas for a Green Bathroom
1) Enhance the greenery with indoor plants
There are many species of plants that require very less amount of sunlight but look amazing in flower pots. These are the ideal options to place on shelves, corners or hang alongside the window. Make sure that some sunlight should reflect on them during the daytime for photosynthesis. There are several benefits of using indoor plants such as they reduce the toxins level in the air by supplying fresh oxygen, you don't need artificial fragrance and plants also bring positivity. While having a bath in a tub, you can feel the relaxing ambience with positive vibes if plants are nearby. Some of the most popular plants that you can opt for indoor plantation are:-
a) Aloe Vera
b) Chinese evergreen
c) Dracaena
d) Ivy
e) Orchid
f) ZZ Plant
2) Replace plastic with wooden accessories
Take a look around your bathroom, there are numerous things made up of plastic that you can replace with natural ones. First of all, start with your nylon carpet that can be replaced with bamboo or jute fibre content. A typical plastic handle brush can be replaced with an alternative to the bamboo brush. Prefer wooden furniture like wall mount vanities over PVC plastic that also releases toxins.
3) Replace your nylon curtains
He nylon curtains have a better replacement for bamboo chicks. Nylon curtains are one of the biggest reasons for low-level air quality. Especially if the bathroom has less ventilation space, immediately replace the polyester made curtains with natural options of cotton or bamboo chicks. They are convenient to use and are available everywhere. These natural curtains give an amazing look to your bathroom with a natural touch. If possible, obliterate the curtains and use a glass door shower.
4) Quit using toxic cleaning chemicals
While visiting the liquid cleaners section is a departmental store. Generally, people don't pay any attention to the labels of products. However, it is important to know that which cleaning solution is free from harmful toxins. Pleasant fragrance of flowers or lemon by toilet cleaners placed at bathroom vanity top doesn't mean that the cleaner has natural ingredients. Read its ingredients and warnings regarding toxicity to ensure. Not only a health hazard, but these cleaners also affect the shine of tiles if used for a long time.
Why choose a natural theme for a bathroom?
Nowadays, plastic is occupying a large space in homes including kitchens, living rooms, and bathrooms. This material is a hazard to the environment as well as release toxins that affect the air quality level. You can start a change from a bathroom to adopt the habit of choosing natural accessories rather than artificial.
While upgrading a bathroom, you can have numerous options to choose from different themes. If ample space is available and you are a nature lover, try the changes mentioned above. It adds a luxury factor and the price is also affordable.